Kualitas Produk yang Dihasilkan Mempengaruhi Perilaku Pembeli (Studi pada Bisnis Keluarga di Perusahaan "Achiyat" Blitar)
Sunarsasi Sunarsasi

FE UNISBA Blitar
Abstract
With the growing development of the business world, the competition is also getting tighter, so as a business person must always find various ways to win the competition, so as not to experience losses or bankruptcy especially with similar products. And do not forget about the product innovations so that they are not outdated, in the sense that buyers' interests can be maintained. To meet buyers' interests, the quality of the products produced must always be maintained. Product quality greatly affects the behavior of buyers; therefore the authors use variables for this study and buyer behavior. While this type of research uses quantitative descriptive to draw conclusions through statistical analysis. Using the buyer as a population and the sample took as many as 50 people as respondents. Data collection techniques using purposive sampling with questionnaires that are validity and reliability. For the hypothesis using simple linear regression analysis and t test. While the test t count = 3.905 with a probability of 0.00. Which means the probability is <0.05, then the results of the t test are appropriate and the hypothesis is accepted. Based on the results of the data analysis above, there is a significant influence between product quality and buyer behavior.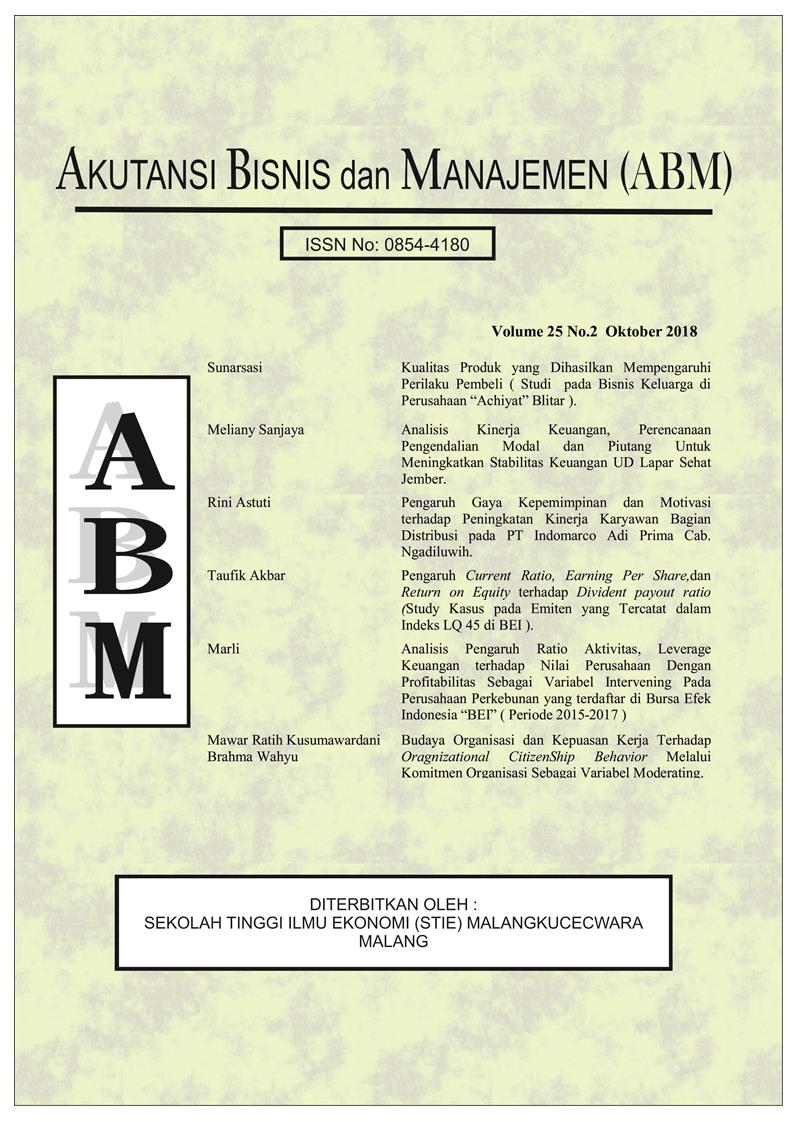 How to Cite
SUNARSASI, Sunarsasi. Kualitas Produk yang Dihasilkan Mempengaruhi Perilaku Pembeli (Studi pada Bisnis Keluarga di Perusahaan "Achiyat" Blitar).
Jurnal Akuntansi Bisnis dan Manajemen
, [S.l.], v. 25, n. 2, p. 77-83, oct. 2018. ISSN 0854-4190. Available at: <
http://journal.stie-mce.ac.id/index.php/jabm/article/view/374
>. Date accessed: 24 may 2019.
Keywords
Product Quality, Buyer Behavior