Pendampingan Teknis Peningkatan Infrastruktur Jalan Lingkungan Dengan Pavingisasi Dan Perbaikan Sistem Drainase Di Wilayah Kelurahan Merjosari Kota Malang
Annur Ma'ruf

Program Studi Teknik Sipil, Institut Teknologi Nasional Malang
Abstract
Laju pertumbuhan penduduk yang berkembang secara pesat penimbulkan permasalahan infrastruktur pada tingkat wilayah desa/ kelurahan di Kota Malang berkaitan dengan kegiatan mobilisasi warga dan sistem pembuangan yang dirasakan sangat diperlukan oleh warga masyarakat khususnya warga di wilayah RT 08 RW 02 Kelurahan Merjosari Kota Malang. Permasalaham perlunya peningkatan jalan lingkungan yang lebih baik untuk menunjang aktivitas mobilisasi warga dan sistem drainase yang lebih baik untuk mengatasi masalah air buangan dan limpasan air terutama pada musim hujan, membutuhkan pendampingan dalam perencanaan secara teknis dan rancangan anggaran biaya yang efektif, efisien serta dapat dipertanggungjawabkan. Berdasarkan analisis situasi dan permasalahan yang digali dari warga, maka direkomendasikan kegiatan pavingisasi dengan rencana anggaran biaya sebesar Rp 11.589.801,- dan pemasangan box culvert untuk saluran drainase dengan rencana anggaran biaya sebesar Rp 119.694.095,- dengan total biaya yang diperlukan adalah sebesar Rp 131.283.896,-. Rekomendasi hasil pendampingan teknis diharapkan mampu memberikan solusi dan memudahkan warga dalam pengajuan proposal pendanaan kepada Pemerintah Kota Malang sehingga kebutuhan infrastruktur jalan lingkungan dan sistem drainase yang lebih baik dapat terwujud.
The rapidly growing population growth rate is causing infrastructure problems at the village / district level in Malang City related to the activities of community mobilization and disposal systems that are felt to be very necessary for the community members, especially residents in RT 08 RW 02, Merjosari district, Malang City. This issues need improving environmental roads to support citizen mobilization activities and better drainage systems to deal with wastewater and runoff problems, especially during the rainy season, requiring assistance in technical planning and budget planning that is effective, efficient and accountable. Based on an analysis of the situation and problems extracted from residents, it is recommended that paving activities with a planned budget of Rp. 11,589,801, and installation of a box culvert for drainage channels with a planned budget of Rp. 119,694,095, with a total cost required is Rp. 131,283,896. Recommendations from the results of technical assistance are expected to be able to provide solutions and make it easier for residents to submit funding proposals to the Government of Malang City so that the needs for environmental road infrastructure and better drainage systems can be realized.
Downloads
Download data is not yet available.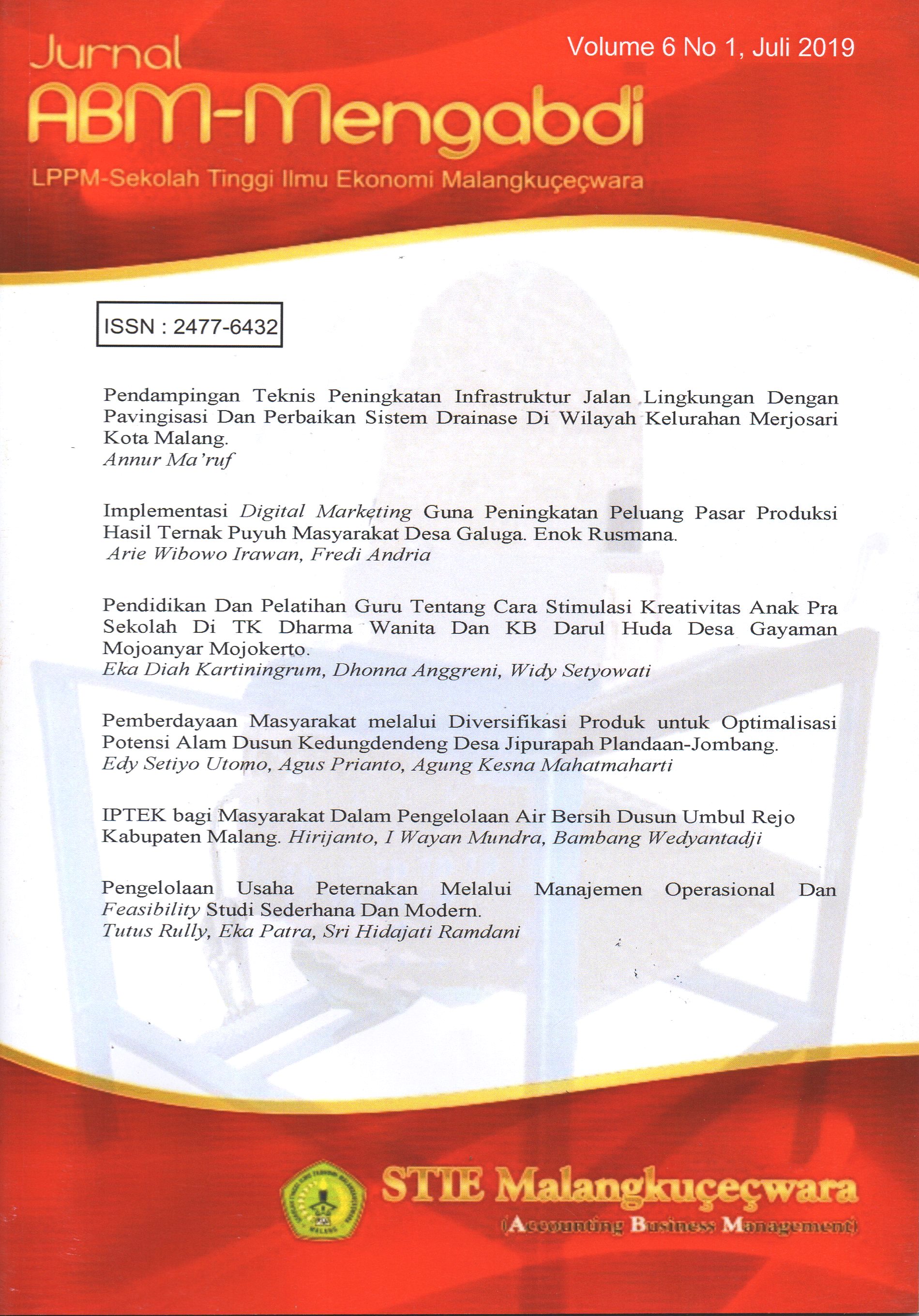 How to Cite
MA'RUF, Annur. Pendampingan Teknis Peningkatan Infrastruktur Jalan Lingkungan Dengan Pavingisasi Dan Perbaikan Sistem Drainase Di Wilayah Kelurahan Merjosari Kota Malang.
Jurnal ABM Mengabdi
, [S.l.], v. 6, n. 1, p. 1-13, oct. 2019. ISSN 2721-141X. Available at: <
http://journal.stie-mce.ac.id/index.php/jam/article/view/421
>. Date accessed: 21 mar. 2023.

This work is licensed under a Creative Commons Attribution-NonCommercial 4.0 International License.