Implementasi Digital Marketing Guna Peningkatan Peluang Pasar Produksi Hasil Ternak Puyuh Masyarakat Desa Galuga
Enok Rusmanah

Universitas Pakuan Bogor

Arie Wibowo Irawan

Universitas Pakuan Bogor

Fredi Andria

Universitas Pakuan Bogor
Abstract
Digital marketing merupakan sebuah program yang menawarkan tempat untuk promosi dan pencarian peluang pasar melalui media digital secara online. Digital marketing ini dapat memberikan kemudahan bagi pelaku usaha untuk mengidentifikasi segala kebutuhan dan keinginan konsumen, baik untuk usaha besar maupun usaha kecil dan menengah termasuk usaha ternak puyuh di Bogor Barat yang rata-rata masih dalam skala industri kecil. Bahkan menurut data Pemerintah Kabupaten Bogor, hanya ada 21 peternak puyuh di kabupaten yang memproduksi sekitar 10.000 ekor puyuh. Oleh karena itu, pengabdian ini diselenggarakan untuk memberikan pengetahuan mengenai alternatif media yang dapat meningkatkan peluang pasar hasil produksi ternak puyuh, di Kabupaten Bogor, khususnya di Desa Galuga. Metode yang dilaksanakan adalah presentasi, kemudian pembuatan buku ajar sebagai buku panduan dengan bahasa yang sederhana, berikut tutorial pembuatan akun aplikasi media sosial yang dapat digunakan oleh masyarakat Desa Galuga untuk memperluas peluang pasar dan meningkatkan hasil produksi.
Digital marketing is a program that offers a place for promotion and search for market opportunities through digital media online. This digital marketing can make it easy for businesses to identify all the needs and desires of consumers, both large businesses and small and medium-sized businesses and also quail cattle businesses in West Bogor are still on a small industrial scale. In fact, according to Bogor Regency Government data, there are only 21 quail breeders in the district that produce around 10,000 quails. Therefore, this service is held to provide knowledge about alternative media that can increase market opportunities for quail livestock production, in Bogor Regency, especially in Galuga Village. The method used is the presentation, then making the textbook as a guide in simple language, following the tutorial for making a social media application account that can be used by the people of Galuga Village to expand market opportunities and increase production.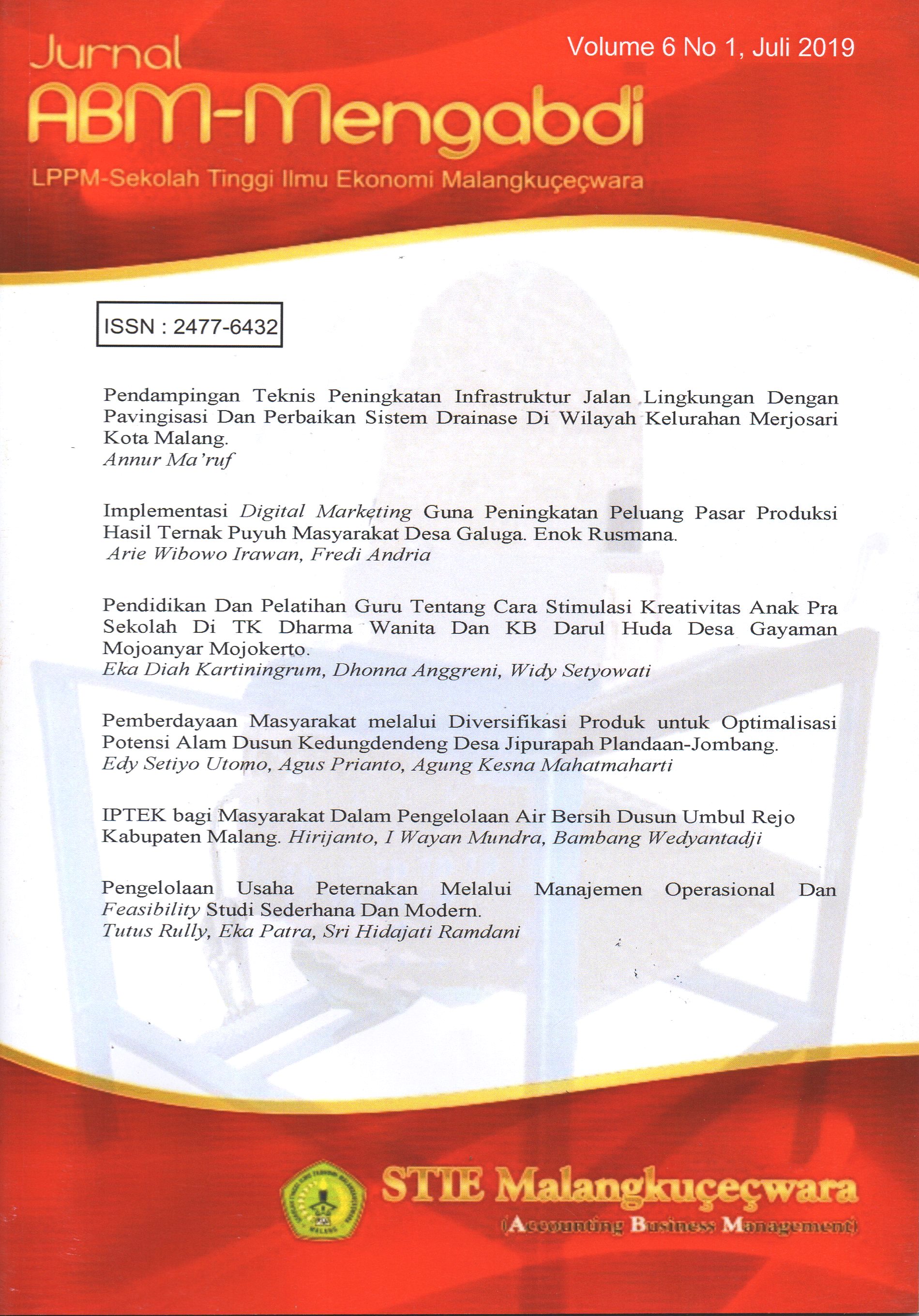 How to Cite
RUSMANAH, Enok; IRAWAN, Arie Wibowo; ANDRIA, Fredi. Implementasi Digital Marketing Guna Peningkatan Peluang Pasar Produksi Hasil Ternak Puyuh Masyarakat Desa Galuga.
Jurnal ABM Mengabdi
, [S.l.], v. 6, n. 1, p. 14-25, oct. 2019. ISSN 2477-6432. Available at: <
http://journal.stie-mce.ac.id/index.php/jam/article/view/422
>. Date accessed: 15 aug. 2020.
Keywords
digital marketing, production

This work is licensed under a Creative Commons Attribution-NonCommercial 4.0 International License.