Pemberdayaan Masyarakat melalui Diversifikasi Produk untuk Optimalisasi Potensi Alam Dusun Kedungdendeng Desa Jipurapah Plandaan-Jombang
Edy Setiyo Utomo

STKIP PGRI Jombang

Agus Prianto

STKIP PGRI Jombang

Agung Kesna Mahatmaharti

STKIP PGRI Jombang
Abstract
Pemberdayaan merupakan upaya mengubah kondisi masyarakat yang menjadi lebih baik. Dusun Kedungdendeng merupakan salah satu dusun dari desa Jipurapah Kecamatan Plandaan Kabupaten Jombang merupakan daerah yang mempunyai potensi alam yang tinggi. Kegiatan pengabdian KKN PPM STKIP PGRI Jombang ini mengutamakan pengembangan sumber daya manusia melalui pemanfaatan dan inovasi produk berbasis potensi alam. Metode pendekatan yang digunakan dalam kegiatan ini adalah pendekatan humanistis. Hasil pengabdian ini antara lain: (1) meningkatnya pengetahuan dan pemahaman masyarakat Dusun Kedungdendeng mengenai potensi alam, (2) terciptanya produk unggulan berupa Cassava Denda dan Zing-ZE Herbal, (3) meningkatnya keterampilan masyarakat dalam mengolah potensi alam sedemikian sehingga kesejateraan masyarakat semakin bertambah, dan (4) terbentuknya jiwa kewirausahaan masyarakat kedungdendeng. Keberlanjutan dalam kegiatan ini adalah pendaftaran PIRT guna mendapatkan legalitas produk masyarakat serta berkolaborasi dengan UMKM supaya dapat diterima secara regioanal maupun nasional.
Endeavoring is the effort to change people's condition to be better. Kedungdendeng is one village in Jipurapah, Plandaan, which exactly in Jombang is an area that has high natural potency. The Devotion of KKN PPM activity focuses in developing in human resource through the utilization and some innovative product of natural potential. This activity used humanity method. And the result of this endeavoring are: 1) The people knowledge and understanding about natural product are increasing gradually; 2) KKN PPM has created superior products which are Cassava Denda and Zing-Ze Herbal; 3) The people natural products managing skills are increasing rapidly, so then people happiness keep increasing; and 4) The interest of entrepreneurship are created. The continuation in this activity is registering PIRT in order to get the legal and halal license of the people product and the collaboration with UMKM so that can be accepted regionally and nationally.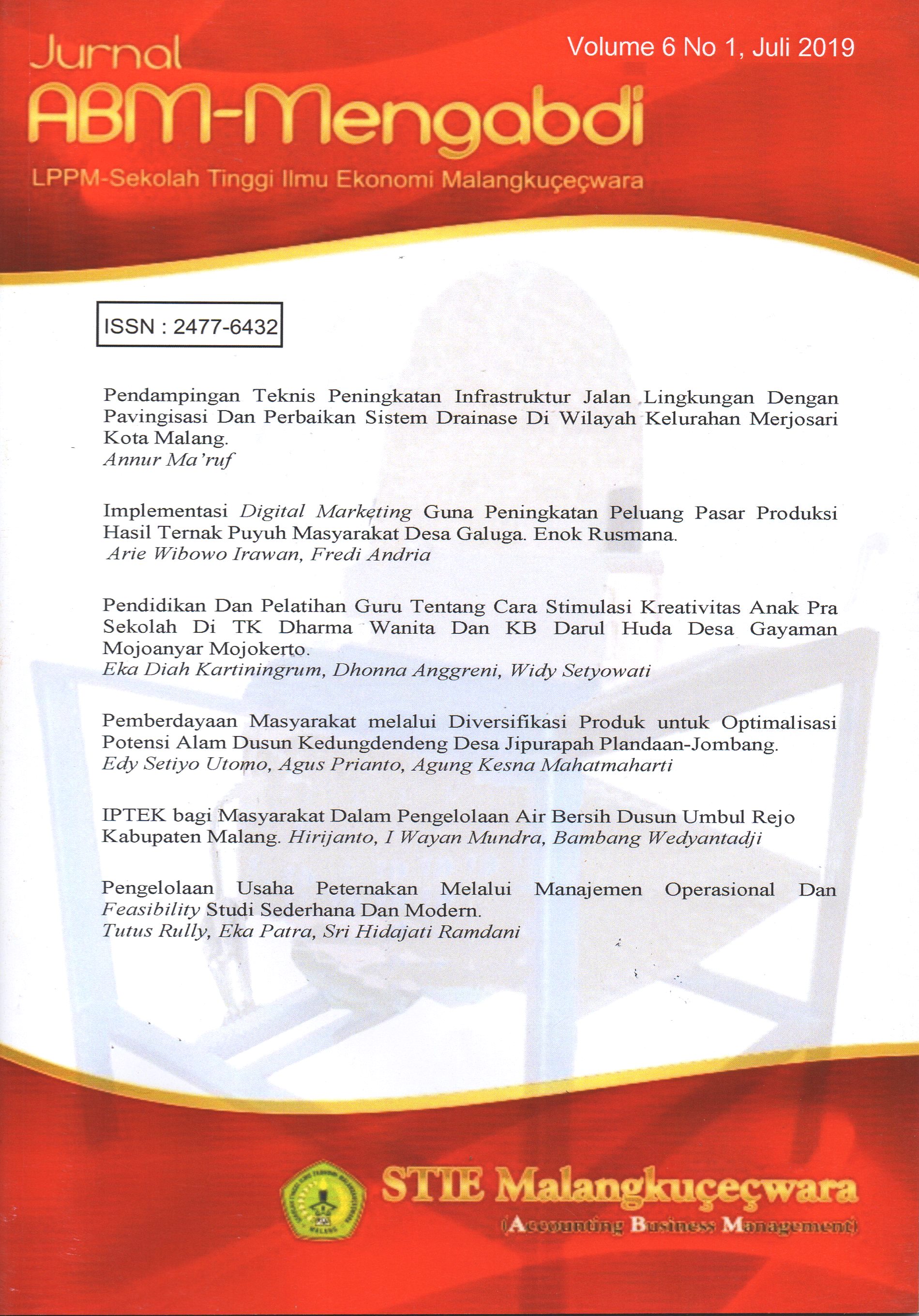 How to Cite
UTOMO, Edy Setiyo; PRIANTO, Agus; MAHATMAHARTI, Agung Kesna. Pemberdayaan Masyarakat melalui Diversifikasi Produk untuk Optimalisasi Potensi Alam Dusun Kedungdendeng Desa Jipurapah Plandaan-Jombang.
Jurnal ABM Mengabdi
, [S.l.], v. 6, n. 1, p. 35-46, oct. 2019. ISSN 2477-6432. Available at: <
http://journal.stie-mce.ac.id/index.php/jam/article/view/424
>. Date accessed: 15 aug. 2020.
Keywords
Endeavoring, Product Diversification, Kedungdendeng

This work is licensed under a Creative Commons Attribution-NonCommercial 4.0 International License.